Free Newsletters and Publications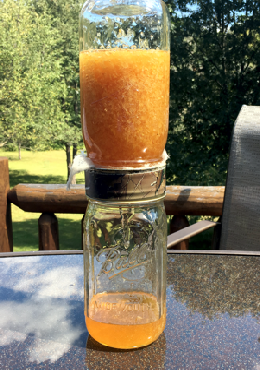 Straining crushed honeycomb through cheesecloth, using canning jars…
Yes, it 's slow, but it is quite effective.
Stay informed on the news that affects you as a beekeeper with this collection of newsletters and publications from various renown apiculturists and organizations around the country and globe.
All About Bees - Learn and test your knowledge about honeybees.
Appi Bees Services, Ltd - the makers of the HiveSmartHQ "ad-free" software app for beekeepers. Manage your apiary with data about maintenance, production, sales, etc.
Beekeeping- Flowers to Harvesting, per Amie and Sam at McDowell Honey Bees
For the youngest generation- The Bee Cause
For the young "wanna-bee" enthusiast- Kids and Bees
Beekeeping Safety -

learn about honeybee safety and avoiding stings.

Bee Spotter - creating a "bee-friendly" garden. This link is associated with the University of Illinois
Center for Honeybee Research - located in Asheville, NC
Cold Cove Technologies - information about hive platform scale monitoring of colony weight
Dantant- a PDF of questions and answers about using "oxalic acid" to manage varroa mites.
Haywood County Extension Center - located in Waynesville, NC
Help the Honeybee - a PDF file listing pesticides and toxins to avoid if you have honeybees in your yard.

Hive Inspection/Journal Checklist

Honey Bee Health Coalition - contains information for managing healthy bee hives.
NC Cooperative Extension: Growing Small Farms-Pollinator Conservation Guide (Debbie Roos)
NCDA Apiary Services - Plant Industry - Plant Protection Section Apiary Services
North Carolina Bee and Honey Act of 1977, Article 55 - legal information about beekeeping in North Carolina
NC State Apiculture Program - further your understanding of honey bee biology and bee management
NC State Beekeepers Association - offers all kinds of information and training on beekeeping
NC State University- Department of Entomology College of Agriculture and Life Sciences - Structured FAQ information from our own state and backyard about bee swarming
Pest World for Kids - view various types of bees.
Planet Bee Foundation - educating younger generations.
The Honeybee Conservancy - planting bee-friendly flower gardens
The Perfect Bee - an informative blog for new beekeepers.
The Pollinator Paradise - what's in bloom and identifying flowers in Haywood County, per the NC Extension Center
WNC Vegetable and Small Fruits News - information for growers in Buncombe, Haywood, and Henderson counties of North Carolina
WNC Center for Honeybee Research - information and research from "natural" beekeepers
University of California Agriculture and Natural Resources - a more thorough discussion with info about bee swarming in the walls of structures, as well as removing the swarm
USDA Bee Research Laboratory at Beltsville, MD - provides tools and insights for building and maintaining healthy honey bee populations
USDA Plant Hardiness Zone Map - see how temperature affects your area




HONEY EXTRACTION FACILITIES


Shortly many beekeepers will be looking to harvest and extract the honey made by their bees. The Haywood County Bee Club has two available options for their members to access equipment to extract honey.


Several years ago the club received a grant that funded the equipping of a honey extraction facility. The equipment includes a "chain" uncapper and a 20 frame extractor. The beekeeper only has to provide the honey combs and a bucket to catch the honey.


Also, we have a portable 9 frame extractor available for beekeepers to borrow. With this extractor comes a hot knife for uncapping.


With either option, their are bins to catch the cappings, and honey strainers to filter out all the bee wings/legs/antennae that inevitably are in the honey otherwise.


To learn more or request either of these, call Bill Skelton at 828.456.3575 or email at bill_skelton@ncsu.edu.
Other Valuable Resources for Beekeeping
Checking the honey super…
The sweetest part of beekeeping.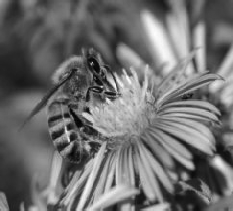 North Carolina state insect…
It may bee yours too.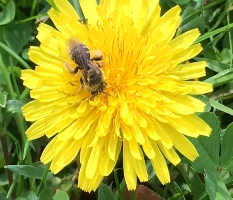 Honeybee working the dandelions.
NOTICE for External Links
Please

read

these criteria

BEFORE

emailing us for inclusion.


Due to the numerous requests for external links, the following criteria must "bee" met in order to be considered as a valid beekeeping resource link. Your business, organization, or school

must primarily promote

one these areas of beekeeping:
Agriculture, Apiary Services, Apiculture, Beekeeping, Beekeeping Equipment or Supplies, Entomology, Honeybees, Honeybee Blogs, Hive Pests or Treatments, Honeybee Gardens, Plants and Trees or Hardness Charts, Honeybee Research, Hives and Inspections,

Beekeeping clubs, State Beekeepers Associations, and educational institutions involved with bees or beekeeping research,

Companies that manufacture beekeeping equipment, hives, supplies, or publish books about beekeeping, etc.


Unfortunately

,

a one-page article about honeybees or beekeeping related events that is listed on any "non-beekeeping" website will not qualify

for inclusion

.

Our goal is to

link only with web sites that focus on beekeeping

and each request is reviewed before posting.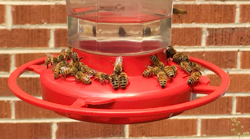 Honeybees sipping hummingbird food
at 4:1 ratio. If it's sweet… they'll eat it.