We would like to welcome all beekeepers to visit the Haywood County Beekeepers Chapter (HCBC) of the North Carolina State Beekeepers Association and it is our hope that the information contained in this website will enlighten and inspire about honeybees. Our goal is to offer information and encouragement to beekeepers of all levels as together we learn and grow in our desire to care for bees as we help our local community to understand more about these busy pollinators of the environment.
Haywood County Beekeepers Chapter (HCBC)
The Chapter is beginning its eighth year as a bee club and has grown to over a hundred honeybee enthusiasts; mostly as hobbyists who manage only a few hives. However, the club does have members who are master beekeepers with varying ranges of expertise, some of these members have over forty-years of beekeeping experience. During any typical HCBC meeting, you will find beekeepers who share a common interest in learning more about bees and their habitat, while sharing knowledge with others in the club.

General Information
Monthly Meetings
First Tuesday at 7:00 PM
Next meeting
May 5, 2020 - Online
Haywood County
Cooperative Extension
589 Raccoon Road
Waynesville, NC 28786


Mailing Address:
Haywood County
Beekeepers Chapter
P.O. Box 1391
Clyde, NC 28721
As beekeepers, we understand the impact that bees have on the environment and on our society, because honeybees pollinate crops that are responsible for one out of every three bites of food that people consume. From a national perspective, this represents a fruit, vegetable, and crop industry totaling more than $14 billion dollars that allows local communities to grow food. Additionally, honeybees pollinate many plants in the natural landscape, And, there is always lots of honey to go around. Below are a few of the annual activities and services that the Haywood County Beekeepers Chapter provides to its members and the community:


In cooperation with the

Haywood County Extension Center

, the club hosts two bee schools every year; a Beginning Beekeeping School and an Advanced Beekeeping School, usually beginning in January or February. These courses can teach you everything you need to know to get started as a beekeeper.

Every April, at the request of area beekeepers, a bee inspector will visit your bee apiary to address any concerns you may have. These inspections are arranged in cooperation with the Haywood County Cooperative Extension service and the North Carolina Department of Agriculture.

The club participates in many of the local seasonal festivals where volunteers share their knowledge of the honey bee with the use of an observation hive and educational materials.

On school days, you can find our willing beekeeper volunteers at some of the local fairs displaying educational bee materials and answering questions by interested visitors.

An experienced club member will gladly assist you in removing a swarm of unwelcome bees from your property, just contact us.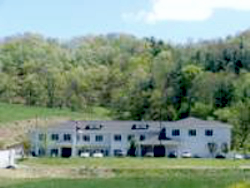 Honeybee Swarm Removal Team


Become a Member of the HCBC Hive
Find a Bee Mentor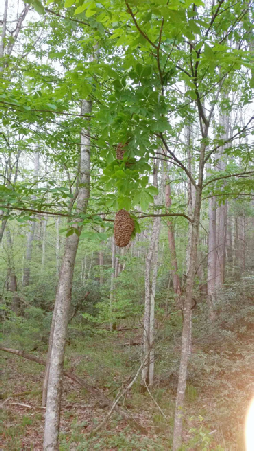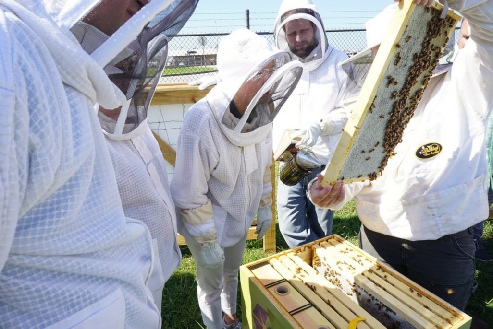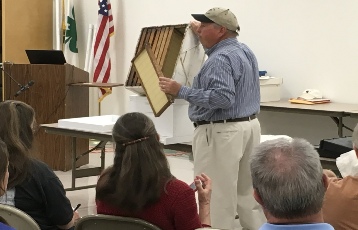 May 5, 2020 | 7:00 p.m.
Online
The April meeting of the Haywood County Beekeepers will be held online at 7:00 p.m. Note: This will not be a face to face, in person meeting. We will be using an online platform called Zoom. If you have never used Zoom before you will want to click in to the meeting about 15-20 minutes early to work through the initial connection protocol by clicking on the meeting link below. It will begin by asking you to "download and run" the Zoom software. Once downloaded, you will be asked to "join meeting" and to "allow" Zoom to join. You will next be asked to join meeting with "computer video" and then "computer audio." You will be asked to register through Zoom by providing your name and email. Hopefully at that point you will be able to see and hear what is happening. At the beginning of the meeting we will have a brief 2-3 minute time and learn how best to use this Zoom platform. You will be able to start joining the meeting after 6:30 p.m.
The topic and speaker for the meeting will be "NC Born and Bred Program" presented by Keith Stiles. Keith will be talking about what he experienced at the recent State Meeting and then, he will discuss the NC Born and Bred program. He is currently writing a Born and Bred Queen Program Plan for our County Association and this will be the first time this topic is presented to the members
If your computer has a microphone you will be able verbally ask a question, however it is preferred that you enter your questions in the "chat" box.
Register in advance for this meeting: https://ncsu.zoom.us/meeting/register/vpUrf-GgqzMjnBchH80KpdOoY6_LX2Dfdw
After registering, you will receive a confirmation email containing information about joining the meeting.
I look look forward to this month's meeting for the information platform. Given the current climate surrounding the Covid-19 virus, all future meetings will be conducted in this manner for the next several months.
Dr. Bill Skelton,
Haywood County Extension Director

One of our favorite club activities is recruiting new beekeepers. You can join the hive by completing an HCBC membership form and mail it to Haywood County Bee Club, PO Box 1391, Clyde, NC 28721, along with a check for the amount indicated on the application. Better yet, print out the membership form and bring it to one of our monthly meetings!
Meetings are held on the first Tuesday of each month from 7:00 p.m. to 8:30 p.m., at the Haywood County Extension Center. Guests are always welcome to come and enjoy the buzzing activity, because we care about sharing beekeeping knowledge with each other, and our community.