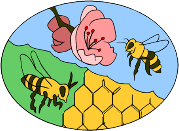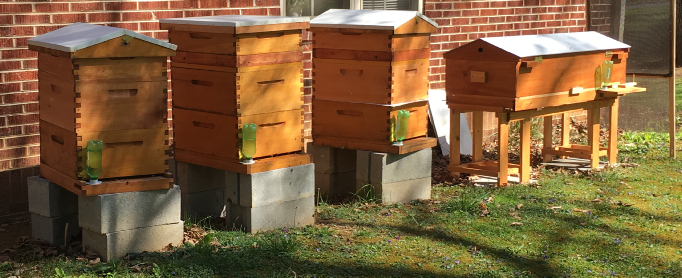 I needed to accomplish two goals. First, learn as much as possible in four days about building and maintaining bee hives, by gaining some knowledge from Mike's beekeeping experience, as he became a "mentor" to me. We worked our way through the Langstroth and top-bar hives and I was amazed at the activity in each colony. With about 200,000 bees flying around us and in the hives, I only received one sting, and I consider that excellent odds for a novice beekeeper.
Second, I had to purchase two Langstroth hive kits, with two deeps and one super each, and build them in his workshop. This created a tremendous feeling in me as I fitted and glued boxes and frames together. Subsequently, I hauled these new hives back to Waynesville and they became the start of this new apiary.
During the fall and winter months I filled my head with as much knowledge as this old brain could absorb and still, I have barely scratched the surface of the beekeeping world. I built a toolbox for the tools I purchased, read numerous articles and books on "beekeeping" and listened to many YouTube videos (Getting Started) about keeping bees, setting up a hive, treatment for pests, and swarming. In October 2016, I joined the Haywood County Beekeepers Chapter and became their "webmaster" during that first night, based on my twenty plus years of computer and web design experience. It was time to "hunker-down" and get serious about bees, for they would be arriving in only six short months (winter does have the shortest days of the year).
"Bee-Day" arrived on April 15, 2017 as I received two packages of bees from KT's Orchard and Apiary in Canton, North Carolina and the new hives were ready. As a technically orientated and organized person, I had prepared as much as I could for this "bee-ti-ful" day, though some questions did race through my mind:



Would the mixed queens (Carniolan-Italian - see

Beekeeping in Tennessee

, Races of Bees) survive the trip to their new apiary?
o
Yes, both queens survived and they were accepted by the workers. They are currently laying eggs.
Proper protection helps to prevent stings
Hives in winter storage
The two Langstroth hive kits I built at my brother's…
2017 - As a newly "certified beekeeper" and a lover of "honey," I would like to tell other

new

or

potential

beekeepers my story, that you might "bee-come" involved with this enjoyable and sometimes frustrating hobby or business.
It started in September 2016, my brother Michael is a beekeeper in Brooklyn, Michigan and he had been talking about his bees and the honey they were producing, etc. After tasting some of his honey, I became hooked on the idea of having an apiary of my own. I was not jealous of my brother, on the contrary, I was proud of his achievements in beekeeping. He built two top bar hives about three years ago and added three Langstroth hives kits during the following years. Mike began showing me all that he had learned about honeybees and how he built his Stolen Nectar Apiary from nothing. His excitement caused me to get excited and quite curious as to whether I could build an apiary in Waynesville, North Carolina.
Additionally, every new beekeeper should have similar thoughts. You want to know that you prepared well and that you asked the right questions, received viable answers to them, and now you are ready to manage your hives. I can say this, "My wife says she likes the 'new' me." I am planting flowers, studying the trees around the house, and absorbing as much "bee-knowledge" as possible. The NEW is still new and we find ourselves looking for new information about bees, even the rest of the family is excited about this new adventure. Mile calls me often, just to check on the progress of the hives. There is still a lot to learn, but thankfully, I belong to a club of beekeepers who give great presentations each month and offer themselves for mentoring, such as Rich Byers did for me.
Finally, beekeeping can be a hobby or a business, depending how much time you desire to devote to the bees. What I have learned is this, beekeeping creates a drive in you which requires the investment of money, time, education, and the willingness to see productive results. Setting up my new apiary was quite easy, because I was prepared, excited, and willing to learn from fellow beekeepers. I hope that all

new

and

potential

beekeepers visit one of our monthly meetings and investigate the club.


May your new apiary bee blessed with as much good fortune as I received. Always, Bee

Safe

, Bee

Productive

, and Bee

Thankful

!


Zach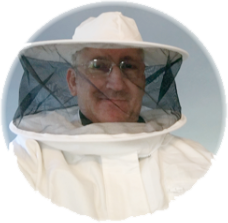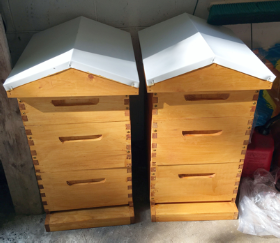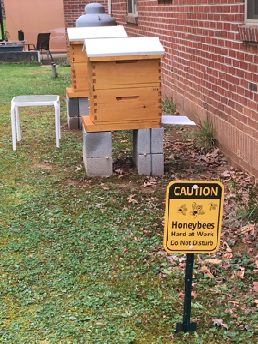 
How many bees (Italians) would survive the long journey and how much of my investment would just "fly away?"
o
I lost about eight bees (out of 10,000 or so) when I installed the two packages, and about another ten to fifteen after they were in the hives for a couple of days.
o
The hives are very healthy and the bees have accepted their new home and starting to bring in pollen.

Did I study and observe other beekeepers enough to protect the investment I made to date?
o
Yes, the hives were ready, the books I read and videos I watched helped to identify what type of bees I wanted and how to install the packages effectively.
o
I sought the advice of experienced beekeepers and asked them to come by the house and see if they agreed where I wanted to place the apiary. Thanks, Mike, Allen, and Rich.

Did I take enough notes at the monthly bee club meetings?
o
Absolutely, what I learned by taking notes helped me prepare for what comes next, "hive management." I learned a valuable point from Tyree Kiser, a very experience beekeeper, as he pointed this out in his presentation, "Learn at least one new thing about bees every time you attend a meeting or seminar." Thanks, Tyree, I do!

Do I have the necessary tools needed to setup a and maintain new Apiary?
o
Yes, I bought what I need to set up the foundation for the hives, purchased tools, protective clothing, a respirator, and built a toolbox to carry it all around.
"

He who expects to conduct bee keeping on a safe and profitable system, must learn that on this, as on all other subjects, 'knowledge is power.

'" (Langstroth, Rev. L. L., Langstroth on the Hive and the Honey-Bee: A Bee Keeper's Manual, 43)
Help your neighbors…
To Bee SAFE!
15 April 2017 - My First Package Installations - Lees than 4 minutes for one hive…
4 May 2017 -Another frame of excellent capped brood. The empty cells are where the wires run through the frame.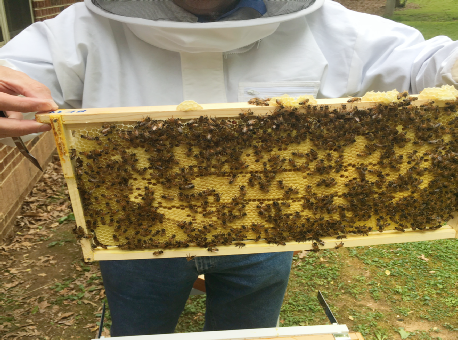 4 May 2017 - 17 Days after the queen was released.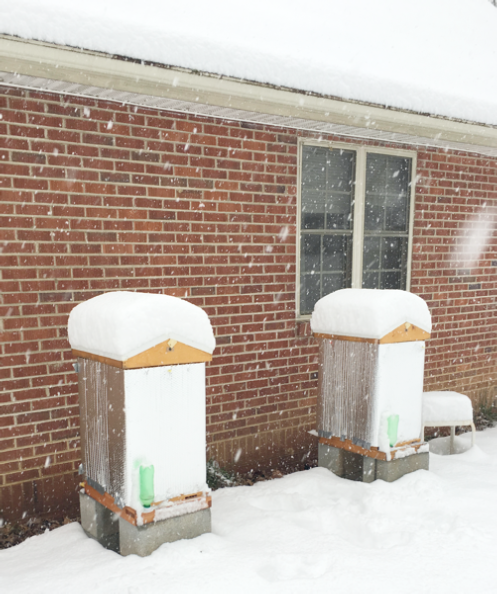 Dec 2017 - First snow in the mountains. There was 11 inches on the hives and 11 to 13 inches in the yard.
Working with Bees…
You will get stung - Here are four of the sixteen stings I received for 2017.
The

2018 honeybee season

brings a new look to the apiary with a three-way split of the surviving 2017 hive and a new Z-Top hive I built. Three Carniolan queens were purchased from Oliveraz Honey Bees Inc., in California and it is exciting to see the progress this year. Two of the new queens were placed in the two remaining Langstroth hives and the third was placed in my new Z-Top hive box.
It is early June 2018 and the honey flow is on… looks like lots of Maple and Locust honey is being made in two hives. The tulips were beaten off the Tulip Poplar trees by the 8 days of rain in late May, so there will not be much of that honey in the cupboard this year. However, the Sourwoods in the yard will be start blooming in late June until late August and that is what I have been waiting for this year. With four hive and a newly created split into a Nuc there should be plenty of bees, about 160,000 or so, to harvest that much desire "mountain sourwood." We'll see if my prediction is true.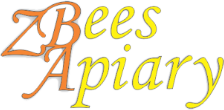 2017 - First Year Beekeeping