We would like to welcome all beekeepers to the Haywood County Beekeepers Chapter (HCBC) of the North Carolina State Beekeepers Association and it is our hope that the information contained in this website will enlighten and inspire about honeybees. Our goal is to offer information and encouragement to beekeepers of all levels as together we learn and grow in our desire to care for bees as we help our local community to understand more about these busy pollinators of the environment.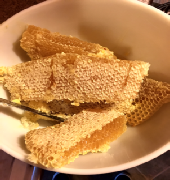 Haywood County Beekeeper's Chapter (HCBC)
The Chapter is beginning its sixth year as a bee club and has grown to over a hundred honeybee enthusiasts; mostly as hobbyists who manage only a few hives. However, the club does have members who are master beekeepers with varying ranges of expertise, some of these members have over twenty-years of beekeeping experience. During any typical HCBC meeting, you will find beekeepers who share a common interest in learning more about bees and their habitat, while sharing knowledge with others in the club.


General Information
Monthly Meetings
First Tuesday at 7:00 PM
Haywood County
Cooperative Extension
589 Raccoon Road
Waynesville, NC 28786


Mailing Address
Haywood County
Beekeepers Chapter
P.O. Box 1391
Clyde, NC 28721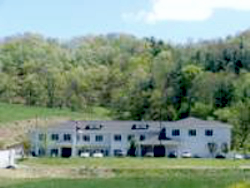 As beekeepers, we understand the impact that bees have on the environment and on our society, because honeybees pollinate crops that are responsible for one out of every three bites of food that people consume. From a national perspective, this represents a fruit, vegetable, and crop industry totaling more than $14 billion dollars that allows local communities to grow food. Additionally, honeybees pollinate many plants in the natural landscape, And, there is always lots of honey to go around. Below are a few of the annual activities and services that the Haywood County Beekeepers Chapter provides to its members and the community:
One of our favorite club activities is recruiting new beekeepers. You can join the hive by completing an HCBC membership form and mail it to Haywood County Bee Club, PO Box 1391, Clyde, NC 28721, along with a check for the amount indicated on the application. Better yet, print out the membership form and bring it to one of our monthly meetings!
In cooperation with the Haywood County Extension Center, the club hosts two bee schools every year; a Beginning Beekeeping School and an Advanced Beekeeping School, usually beginning in January or February. These courses can teach you everything you need to know to get started as a beekeeper.

Every April, at the request of area beekeepers, a bee inspector will visit your bee apiary to address any concerns you may have. These inspections are arranged in cooperation with the Haywood County Cooperative Extension service and the North Carolina Department of Agriculture.

The club participates in many of the local seasonal festivals where volunteers share their knowledge of the honey bee with the use of an observation hive and educational materials.

On school days, you can find our willing beekeeper volunteers at some of the local fairs displaying educational bee materials and answering questions by interested visitors.

An experienced club member will gladly assist you in removing a swarm of unwelcome bees from your property, just contact us.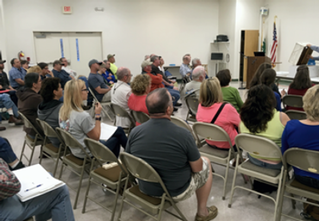 Click here for Swarm Removal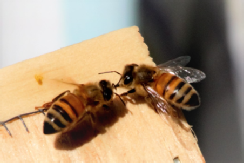 Girl… I'm so glad to bee out of that package and in our new hive…
Yeah… let's rest awhile, then fly over and see what's buzzing at the HCBC hive, during their next meeting or event.
Consider Becoming a Member of the HCBC Hive
Click here for a Bee Mentor
Bee Club Members - Annual Field Day
Saturday, August 12, 2017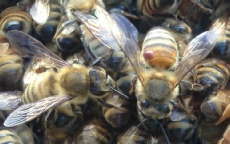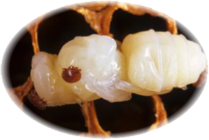 If you are a beekeeper, you will have varroa mites at some stage of your beekeeping experience. With proper Integrated Pest Management (IPM) it is possible to control and minimize the damage that these pests can cause within a bee colony.
All HCBC members are invited to join us for our Annual Club Field Day event at the Mountain Research Station across from Haywood County Extension Center offices. Activities will include demonstrations for beginners and experienced beekeepers of methods for mite control (based on the list of five endorsed by Lewis Cauble, NC Bee Inspector for our area). Lewis will be on site for the education program, along with Sarah from Wild Mountain Bees and Kathy Taylor with KT's Orchards.
Demonstrations

will be from

3 to 5 PM

with a picnic style

meal

on the hill from

6 to 7 PM.

Fried chicken and pork barbeque will be provided by the bee club (with plates and utensils).

Members

will be asked to sign up in advance and contribute potluck items to add to the menu. Advance notice of the event will be sent to club members by mail, email and also announced at the August 1st meeting.


BRING YOUR BEE SUIT and VEIL…


Post Report (8/15/2017) - There was a good turnout with approximately twenty-five beekeepers present for the pest presentation, symptoms and remedies and then, we conducted the "sugar shake" testing of several hives for varroa mites, where every hive was below the limit of nine mites per three-hundred bees. The maximum numbers of mites found in any hive was three. Great job, Lewis, Bill, Rich, and Rick on these presentations. Afterwards, we experienced a great meal of barbeque pork and chicken with all the homemade fixings and deserts you could desire.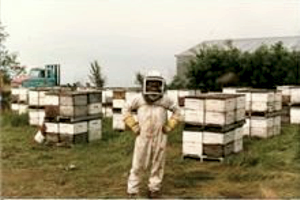 Meetings are held on the first Tuesday of each month from 7:00 p.m. to 8:30 p.m., at the Haywood County Extension Center. Guests are always welcome to come and enjoy the buzzing activity, because we care about sharing beekeeping knowledge with each other, and our community.