Free Newsletters and Publications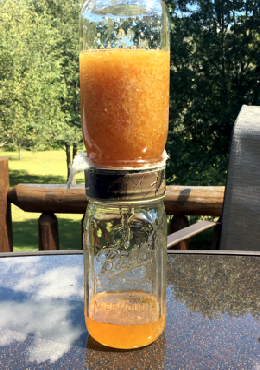 Straining crushed honeycomb through cheesecloth, using canning jars…
Yes, it 's slow, but it is quite effective.
Stay informed on the news that affects you as a beekeeper with this collection of newsletters and publications from various renown apiculturists and organizations around the country and globe.
Other Valuable Resources for Beekeeping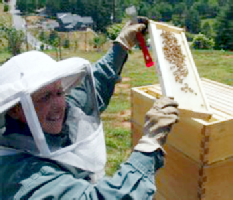 Checking the honey super…
The sweetest part of beekeeping.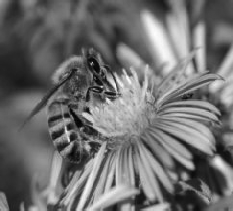 North Carolina state insect…
It may bee yours too.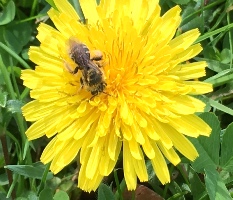 Honeybee working the dandelions.
NOTICE for External Links
Please

read

these criteria

BEFORE

emailing us for inclusion.


Due to the numerous requests for external links, the following criteria must "bee" met in order to be considered as a valid beekeeping resource link. Your business, organization, or school

must primarily promote

one these areas of beekeeping:
Agriculture, Apiary Services, Apiculture, Beekeeping, Beekeeping Equipment or Supplies, Entomology, Honeybees, Honeybee Blogs, Hive Pests or Treatments, Honeybee Gardens, Plants and Trees or Hardness Charts, Honeybee Research, Hives and Inspections,

Beekeeping clubs, State Beekeepers Associations, and educational institutions involved with bees or beekeeping research,

Companies that manufacture beekeeping equipment, hives, supplies, or publish books about beekeeping, etc.


Unfortunately

,

a one-page article about honeybees or beekeeping related events that is listed on any "non-beekeeping" website will not qualify

for inclusion

.

Our goal is to

link only with web sites that focus on beekeeping

and each request is reviewed before posting.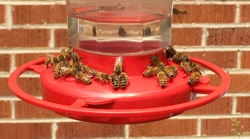 Honeybees sipping hummingbird food
at 4:1 ratio. If it's sweet… they'll eat it.