Quarterly Board Meeting Minutes
January 5 2021
Opening Ceremony
At 6:30 p.m. on Tuesday, January 5, 2021, President Allen Blanton called to order the Haywood County Beekeepers Chapter Board of Directors meeting at the Haywood Extension Center.
Present were: Allen Blanton, president; Keith Stiles, vice-president; Al Edwards, director; Paul Lott, director; Rudie Bax, director; Dr. Bill Skelton, honorary director; Cynthia Schwartz, treasurer-by-phone; David Zachary, director/webmaster; and Victoria Morrison, secretary. Absent members: Rick Queen.
Old Business
Elections - Allen said we needed two more board directors and a treasurer. He asked David Zachary to be a board member. Rudi and Al have one year remaining. Allen asked Keith Stiles to be the Vice President. We need someone to be the Treasurer. In February we will have elections.
New Business
Allen talked about meetings this year and having them outside. In February and March we will have Zoom meetings. On April 6, at 6:30 PM we will try to have an outdoor meeting. We can only have 25 which is according to current NC Covid-19 regulations.

Cynthia called in with the treasurer's report. As of December 2020, there is $184.06 in checking and $2051.59 in savings.

Allen proposed not having dues this year due to COVID-19, but was shut down by the other members saying that dues are needed to support the club and give members value and an incentive to be a part of the club.

David said we are good for the website/domain until the end of February.

Bill talked about having Bee School using the NCSU Bees Academy classes on the Internet. He said there are three classes each costing $35 each or $84 for a bundle. He says that he can put them on Zoom and share the link for 30 days. The school can start at 9 AM. The second day will be a field day where students will be in the apiary and introduced to the bees. Charge for class is not determined yet. The date is not yet determined.

Bill said that this summer 12 people used the portable extractor and de-capping stand and 7 went across the street and used the equipment. 6,500 lbs of honey were extracted. A medium super yields an average of 30 lbs.

Keith is developing a plan for the Queen Rearing Project and the mating nucs. He will start on the grant for $500 soon. Decisions on where to put it, etc. will need to be made. 3 people have training on Queen Rearing and will be able to train others. It will be very hands on. We will talk about it at the next Board Meeting.

David asked that members send pictures of their apiary with information about themselves and their apiary. They can update their profile on the website. Send pictures to

webmaster@HCbees.org

.
Closing
President Allen Blanton closed discussions and the meeting was adjourned at 7:05 p.m.
Respectfully submitted,
Victoria Morrison, secretary
Haywood County Beekeepers Chapter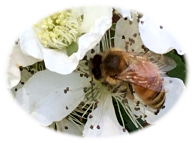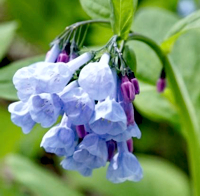 Carniolan-Italian Honeybee
On Blackberry Blossom